Small but mighty. For students looking for the best small colleges to consider, look no further!
As a teenager, it's easy to get caught up in the glitz-and-glamour appeal of a massive university with 20,000 roaring students. But that's not for everyone.
Large research universities containing multiple "schools" within the college are not the only options. I have heard all the excuses when passing over the little colleges: "no football team, only 2,000 kids, no graduate programs, why would I go there?" If students value things like community, faculty-student relationships, and impressive academics, you can certainly find those—and much more—at small colleges!
New London, Connecticut
New London is a coastal Connecticut city, home of Ocean Beach Park, Ferry Lighthouse Tours, and the historical Forth Trumbull State Park. When arriving at Connecticut "Conn" College, students will notice the beautiful architecture that sits within 750 acres of an arboretum. Despite having just 1,700 undergraduates, the college boasts an impressive 23 different housing options for students. More impressively, even as Connecticut College expands, builds, and renovates, they stay committed to their sustainability mission and commitment to their green building policies. (P.S. – They were awarded the LEED Gold certification by the U.S. Green Building Council for their commitment to energy and environmental design.)
After peeling back the layers that are visible to the human eye, the academics will absolutely turn you upside down! Connections is Connecticut College's way of reinventing the way they go about a liberal arts education. Without sacrificing an ounce of rigor, students have the opportunity to incorporate language, their major, an internship, and an interdisciplinary study to carry into the world after graduation. For students unsure if they should consider this college as one of the best small-sized colleges, Connecticut College also offers over 40 majors and allows students to coordinate with faculty to create and design their own interdisciplinary major or minor!
Connecticut College has a little bit of everything for everyone. For the athletes of the world, Connecticut College competes in the very competitive NESCAC of division 3 collegiate sports. If you are worried about social life, not having a vehicle, or missing opportunities, 98% of students live on campus, leaving room for plenty of opportunities. The value of relationships cannot be forgotten and at Connecticut College, professors will know the student's name.
---

---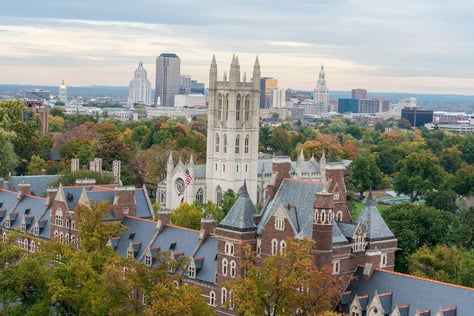 Hartford, Conneticut
Located in the capital city of Hartford, Trinity College is a private liberal arts college that was founded as a Washington College in 1823. Trinity is a unique place given the experience it offers to all types of students. If your student is into odd facts, Hartford is home to the first witch hunt in America, the oldest continuously published newspaper (The Hartford Courant), and is dubbed "The World's Insurance Capital" (the headquarters of more than 100 insurance companies.)
Trinity is one of very few small liberal arts colleges located in an urban environment. On campus, Trinity may not feel very urban, but the surrounding area is the residential outskirts of Hartford itself. Despite having roughly 2,200 undergraduates, Trinity offers more than 900 courses across 41 majors, including 3 master's degree programs, graduate certificates, and a few accelerated tracks.
Still want more? Trinity backs their academic opportunities up with 200 academic internship possibilities. Wholistically, Trinity embodies what it means to be committed to liberal arts education. The college has also placed a premium on not just learning but the style of learning: a commitment to subject matter expertise, skills, proficiencies, and in-depth engagement outside the classroom.
Is your child a student athlete? At Trinity, students have the opportunity to embrace a truly rigorous academic schedule, while continuing their dream of playing collegiate sports across one of 30 men's and women's NCAA Division 3 varsity teams. When they're are not busy leading a student organization, preparing for the season, or deep in the books, there is plenty to do in the city.
For all the young foodies out there, students can explore some outstanding Italian food at Sorella or have a diverse dining experience at Tisane Euro-Asian Café through Asian-fusion food, coffee, and a night lounge!
Small? Yes. But while trinity is a small-sized college, it can stand toe-to-toe with the big leagues.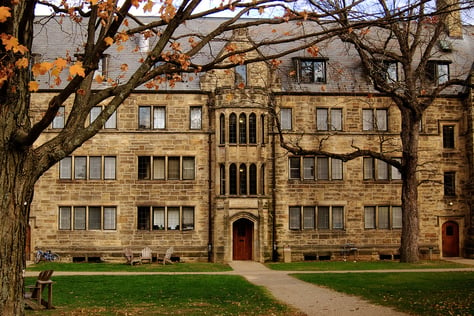 Gambier, Ohio
Where is Gambier? Is it even a real place? Yes, it is! While some colleges are situated smack dab in the middle of a fast-paced city or border a notable town, the village of Gambier is located at the center of Kenyon's campus. And no, this was not by accident! The community functions within the school, and vice versa. At the center of the village of Gambier is Middle Path. It is an absolutely breathtaking place despite the simple concept of a footpath. Within the space, you will find young adults mingling in marketplaces, families gathering, and students exchanging notes. With roughly 1,700 undergraduates and a total village population of 2,400, you get that feeling of "home" within one square mile. Take a look at "One Minute" in Gambier to see exactly what I mean!
Here's another reason students should apply to Kenyon: no application fee!
All jokes aside, Kenyon has a remarkable reputation for academics. Not every college offers the opportunity to access research opportunities in year one. Kenyon students become incredible researchers and writers because those skills are shaped within the curriculums across the different majors. If a student is interested in English language, political science, or government, Kenyon is a hot spot. Approximately 20% of Kenyon students pursue a double or self-designed major (did someone say academic freedom?).
Fun fact: the model of "Academic Advising" started at Kenyon, in case you were curious about access to professors and additional help.
Simply put, Kenyon College has a little bit of everything for everyone. Do they have sports? Sure do. Kenyon is second in the nation in Division 3 players that have been named NCAA Postgraduate Scholars, with 86. Guess what else? Kenyon ranks eighth in the country (and ahead of every Ivy) for "the proportion of STEM grads to earn a doctorate in a STEM field." Sometimes a change of pace is necessary to find a new appreciation for our world, or to find a better version of ourselves. Why not start in Gambier, Ohio?
Check out our other 6 college recommendations as part of this month's 9 on 9 series:
Looking for additional support with the college application process?
Here at Collegewise, we understand how overwhelming the journey to college can be. We've helped more than 26,000 students get admitted to their best fit college and we'd love to help you too! Click the link below to schedule a complimentary call with one of our expert program advisors and receive advice tailored to your family's unique needs.
About Collegewise:
With more than twenty years of experience, Collegewise counselors and tutors are at the forefront of the ever-evolving admissions landscape. Our work has always centered on you: the student. And just like we've always done, we look for ways for you to be your best self - whether it's in the classroom, in your applications or in the right-fit college environment. Our range of tools include counseling, test prep, academic tutoring, and essay management, all with the support of our proprietary platform, lead to a 4x higher than average admissions rates.