Location plays an enormous role when choosing the right colleges. Here is our list of the best suburban colleges to consider!
For some college applicants, cities are invigorating; for others, they can be overstimulating and draining. No matter where a student falls on that spectrum, here are the best urban schools that might be worth a look.
The colleges in this list were selected based on the following criteria:
Close enough to the city for quick visits, yet far enough away that students won't hear horns or taxis as they try to fall asleep.
Nearby train stations (within 0.5 miles of campus)
Direct access to the city and back
*Please note that the author claims no responsibility for construction, weather, or any other delays/cancellations that may occur.*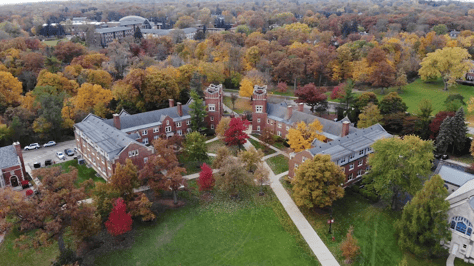 Lake Forest, Illinois
Has your student always wanted to recreate Ferris Bueller's Day Off? Want to see where to land on the "does deep-dish actually count as pizza" debate? (Spoilers: it doesn't). Lake Forest could be a good college to shortlist. Located 30 miles north of Chicago, Lake Forest provides the traditional benefits of a liberal arts college:
Small class sizes

Close relationships with professors

A tight-knit student body

And it takes advantage of its proximity to the third-largest city in the country
Professors across all disciplines take their classes to Chicago over 200 times per academic year, and 86% of students graduate having completed an internship in the city. Students who want to get a taste of what living in Chicago can participate in the In the Loop semester or the ACTIVATE: Summer Internship Program, both of which allow students to reside in the College's residential building downtown.
With a train station just a 15-minute walk from campus, students can hop on the Metra Union Pacific North Line and get downtown in an hour. For students unsure about how to navigate their trip or how to maximize their time in the city, Lake Forest College offers the Head to the Center for Chicago Programs.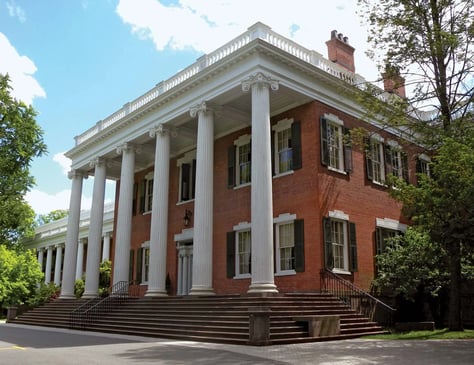 Madison, New Jersey
New Jersey gets a bad rap sometimes. Sure, Newark Airport isn't great and the Jersey Shore show was pretty trashy. But, two things need to be considered.
Does anyone really have anything positive to say about an airport after being delayed?

Pretty much everyone on that cast was from New York.
As a New Jersey native, let me assure you that there are some incredible places in the Garden State, and Drew University is one of them.
Named by home security company SafeWise (no relation to Collegewise) as the third-safest college town in the country, Madison, NJ, home to Drew, is 30 miles west of New York City. Drew provides students with seemingly endless opportunities – both academic and extracurricular – to take advantage of the Big Apple. Their nycTREC programs allow students to live on campus and travel into the city for a semester, taking classes on Wall Street, at the United Nations, and at several other landmarks. All students graduate having completed at least two career-building immersive experiences, many of which take place in New York.
With a half-mile walk from campus to the train station, students arrive in New York's Penn Station in an hour. Housing is guaranteed all four years at Drew, so when you find yourself needing a break from "The City that Never Sleeps," your bed is only a train ride away.
---

---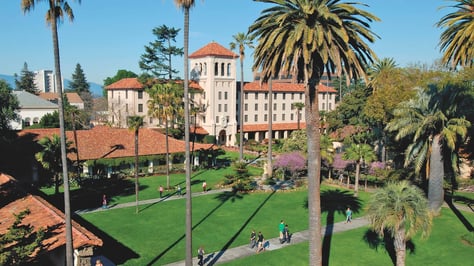 Santa Clara, California
Santa Clara's unique location provides access to 2 of the 15 largest cities in the country: San Jose and San Francisco. Santa Clara students take full advantage of the fact that the university is in the heart of Silicon Valley. Many graduates wind up working for the tech giants that call the region home, and students within the College of Arts and Sciences have access to the REAL Program, which aims to provide paid internships, research, and work experience while they are enrolled.
With downtown San Jose a mere two miles from campus, this may seem like I'm cheating a bit, so let's focus on its access to San Francisco. A train station is located right off the campus, so students can go from campus to San Francisco Station (one block away from Oracle Park, where the Giants play, if you're into that sort of thing) in just over an hour.
Check out our other 6 college recommendations as part of this month's 9 on 9 series:
Looking for additional support with the college application process?
Here at Collegewise, we understand how overwhelming the journey to college can be. We've helped more than 26,000 students get admitted to their best fit college and we'd love to help you too! Click the link below to schedule a complimentary call with one of our expert program advisors and receive advice tailored to your family's unique needs.
About Collegewise:
With more than twenty years of experience, Collegewise counselors and tutors are at the forefront of the ever-evolving admissions landscape. Our work has always centered on you: the student. And just like we've always done, we look for ways for you to be your best self - whether it's in the classroom, in your applications or in the right-fit college environment. Our range of tools include counseling, test prep, academic tutoring, and essay management, all with the support of our proprietary platform, lead to a 4x higher than average admissions rates.