The most unique college mascots bringing life to campus culture!
On game day or just walking through campus, college mascots can elevate a student's experience. Here are some of the most unique college mascots in the US!
Growing up in the South, I am very familiar with the appeal of Football Saturdays – the tailgating, knowing the cheers, and recognizing the mascot as it cheers on the fans. So it's no surprise that one thing I hear quite a bit when working through college research with my students is a desire for a traditional college experience. They want big schools with a great social scene and tons of school spirit. This even goes so far as students including their love of school colors in their research notes. What I don't hear a lot about is the school mascot…and there are some great ones out there! Take a look at these fantastic colleges with a more unique college mascot.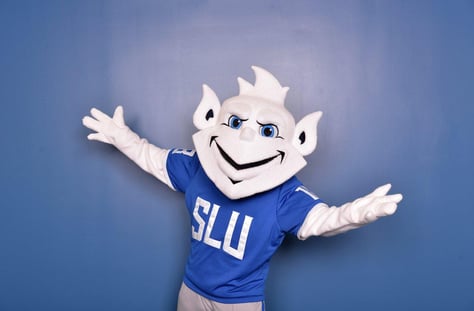 Saint Louis University
Saint Louis, Missouri
Saint Louis University (SLU) is home to around 13,000 students. While very much a liberal arts university, SLU is also home to majors like aerospace engineering, data science, and strategic intelligence. As one of the oldest Catholic, Jesuit schools in the country, you might be surprised to discover their mascot is the Billiken – a symbol of good luck that apparently was all the rage (there were dolls, marshmallow candies and salt and pepper shakers) before it became the mascot at SLU. It's a tradition to rub the belly of the Billiken statue on campus for good luck before exams.
Need a few more reasons to consider SLU? How about that they are super focused on making an impact? Over 150 of their courses include community engagement! If you want to gain some work experience, St. Louis is home to eight Fortune 500 companies and has been called the #1 Start-Up City in America.
Bonus: freshmen and sophomores who live on campus get a FREE Metro pass, which connects students to all that St. Louis has to offer (the city is pretty well-known for their pro sports teams and their food).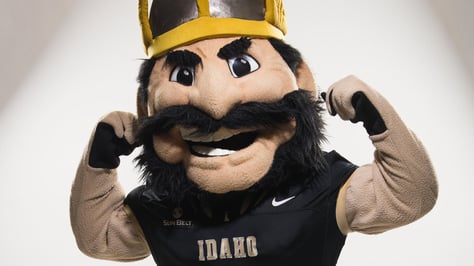 University of Idaho
Moscow, Idaho
If you want another medium-sized campus that has also been ranked as one of the 25 Best Outdoor Schools in America, look no further than the University of Idaho. While you may not have heard of Moscow, Idaho, Conde Nast has, and they have ranked it as one of the 50 most beautiful places in America! The 10,000 students who attend U of I are studying anything from sustainable systems to fire ecology to marketing. And they are cheering on The Vandals – apparently back in the day their basketball team played such fierce defense that it was said they "vandalized" their opponents…and that's how their mascot came to be.
University of Idaho will give you big school vibes with a small school feel. With a student to teacher ratio of 16:1 and over 2/3 of the student body participating in research, attending U of I will provide students with the best of both worlds. Want more inside scoop? Check out their Things To Know posts!
---

---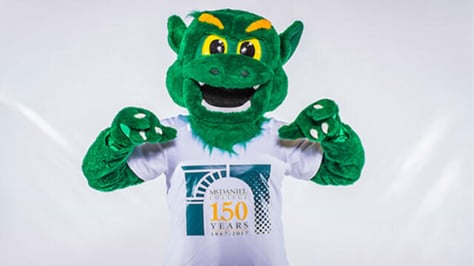 Westminster, Maryland
How about a small school with big heart and spirit? Take a look at McDaniel College. Students enjoy small town charm but still be within an hour of Baltimore and Washington, DC. As a member of the Colleges That Change Lives, McDaniel is committed to creating a tailored program for each student that includes at least two real-world learning experiences. When not in class, students can be found participating in McDaniel's unique tailgating tradition in their drive-in stadium to cheer on the Green Terrors. While the look of this mascot has gone through a few iterations, the students at McDaniel embrace it as a sign of excellence both on and off the field.
Fun fact: they are home to a 9-hole golf course that transforms into a footgolf course! Haven't heard of footgolf? I hadn't either…apparently it's a cool combination of soccer and golf with the goal of kicking your soccer ball into a cup in the fewest kicks. This sounds like an amazing way to destress after an exam!
Check out our other 6 college recommendations as part of this month's 9 on 9 series:
Looking for additional support with the college application process?
Here at Collegewise, we understand how overwhelming the journey to college can be. We've helped more than 26,000 students get admitted to their best fit college and we'd love to help you too! Click the link below to schedule a complimentary call with one of our expert program advisors and receive advice tailored to your family's unique needs.
About Collegewise:
With more than twenty years of experience, Collegewise counselors and tutors are at the forefront of the ever-evolving admissions landscape. Our work has always centered on you: the student. And just like we've always done, we look for ways for you to be your best self - whether it's in the classroom, in your applications or in the right-fit college environment. Our range of tools include counseling, test prep, academic tutoring, and essay management, all with the support of our proprietary platform, lead to a 4x higher than average admissions rates.