Is the thought of going to a college with a sub-standard pool a big red flag for you? Can you not imagine life without being in the water? Whether you're a student athlete, a competitive swimmer, or just love swimming, this blog will explore three great colleges that come complete with an amazing swimming pool!
I'm here to add a little bit of jealousy to your college search. It's December, fall has swept through a majority of the country, and winter is coming. Hope you packed your winter coats, Californians on the East Coast! (Don't worry, it's not too late to buy one if you haven't already.)
At Collegewise, we focus a lot of time and attention on the college search for our students. We build a list of schools for students to research, but there are always going to be X-factors that will make or break keeping a school on "the list." We get crafty and really want to hear what our students are saying, and with so many opportunities across the country, it's difficult to get it right on the first round of research. We continue to build upon that momentum until a student is happy and excited to apply to all the schools on their finalized list.
I hate to pull the "back when I was looking for schools" story, but it's still a valid conversation I have with a lot of my students. My college search was heavily weighted on geographical location. As a true Midwesterner for the first 18 years of my life, I detested raking and shoveling endless amounts of snow, and breaking into a full sweat putting on all the layers of clothing, only to come back with cold hands, soggy socks, and rosy cheeks. I lived for the summers. Let me throw on board-shorts, a shirt (when applicable), and flip-flops and go to the pool with my friends, play at the park, and crush night games with the neighbors. Whatever the activity was, I wanted to be outside as much as possible. And when it came to researching schools, I wanted to escape the weather so badly and only pack one pair of pants (which I never wore), I really narrowed down my search before it even started. Another necessary requirement for me? I was a swimmer. I wanted to swim outdoors (I mean tan in January). How luxurious does that sound?
Now that you're fully up to speed, I bring you my own personal (and slightly biased) take on the best outdoor pools that schools have to offer.
(I'll get my bias out of the way. I went here. AND IT WAS AWESOME both in and out of the pool.) University of Redlands has a 13-lane, 25-yard outdoor pool accompanied by four diving boards, two 1m springboards, and two 3m springboards. The lap pool is deep (6-13 feet in depth), and the shallow end hovers around 3-4 feet in depth. In regard to athletics, Redlands is home to the NCAA Division III men's and women's water polo, and men's and women's swimming and diving teams.
As for leisure offerings for students, the pool is open year-round for open lap swim, swim classes, intramural water polo, or just lying on the deck, enjoying the sun and the view of the mountains.
Redlands gets my vote for the best outdoor pool because it has plenty of deck space to go around, and during the "winter" months, the temperature can still reach 65-80 degrees, so be sure to keep that SPF handy! Plus, talk about some scenic views in the background of those photos, and a grassy area for some Spikeball (if it's not too crowded).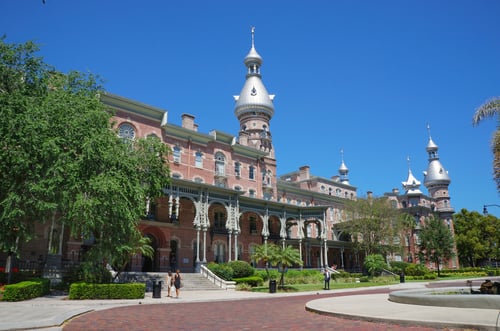 Taking it to the other side of the United States, we're taking a deeper dive (pun intended) at the Benson Alex Riseman Aquatic Center on the wonderful campus of UTampa. They just finished their two-year renovation phase of the whole facility, capping it off with a beautiful outdoor pool. The 32,000-square foot area has an 11-lane, 25-meter by 25-yard competition pool that is home to the NCAA Division II men's and women's swimming & diving teams, a smaller recreational pool, and a clover shaped hot tub.
During the winter months, you can still expect to explore all things aquatics because the average temperature is between 70-80 degrees. Some of the leisure activities and classes offered include American Red Cross Lifeguard Training, water volleyball, learn to swim classes, and a club swim team. If none of that interests you, the hot tub can seat 28 people, so make some friends and hang out to enjoy the sunshine!
Tampa's pool has a boutique hotel vibe. There are umbrellas for shading, palm trees, and lounge chairs all around the pool deck. Whether you want to work out, hang out, or chill out, you can't go wrong! Plus, their pool hours are from 9am-9pm!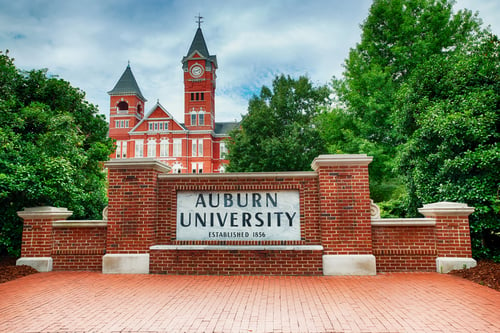 I'm adding a big school to the list now, and it's big in a very special way. The Auburn University outdoor recreational pool is a whopping 200,000 gallons large, and has three different depths in order to accommodate all activities for their students. Looking to swim laps? No worries. Thinking about playing a little bit of 5v5 water basketball? They have that covered. Have a bunch of your friends that want to challenge another group of friends in water volleyball? There's a space for that! A true variety of aquatic activities surround the space, which makes it inviting for all.
For the more competitive and serious students, Auburn has offerings for club swimming and water polo. They have a 50-meter by 25-yard outdoor pool that their NCAA Division I men's and women's swimming and diving team occupy. But two of the biggest selling points that put Auburn's outdoor recreational pool on the list are their 20-foot-tall wet wall and 45-person hot tub. Mind you, the rock wall hangs over the deep end space, so when you do fall, it's just a belly flop on water, not pavement. And, the 45-person hot tub is literally so big and in the shape of a tiger paw.
Clearly, Auburn has their aquatic spaces figured out. They have lounge chairs and umbrellas to accommodate those heat waves, and their winter average temperatures can dip into the 50-degree range (spoiler alert: they close the pool until early March). But, they participate in the Polar Plunge to really feel the "wrath of winter" and raise money for the Special Olympics. With most of their pool hours 11am-8pm, you're going to be looking for the sun deck to spread out and enjoy your time away from studying here. Or, take a lounge chair and "study" away!
Want to learn more?
If you're interested in receiving expert advice on your college research or need support building an application for any of these colleges, speak to a program advisor today.

---
About Us: With more than twenty years of experience, Collegewise counselors and tutors are at the forefront of the ever-evolving admissions landscape. Our work has always centered on you: the student. At Collegewise we believe you shouldn't have to choose between doing well and being well, and just like we've always done, we look for ways for you to be your best self - whether it's in the classroom, in your applications or in the right-fit college environment. Our range of tools include counseling, test prep, academic tutoring, and essay management, all with the support of our proprietary platform, leading to a 99% acceptance rate and 9/10 students being accepted to one of their top 3 schools.
---