We guess students will spend most of their time in a college library during their four years of undergrad. Studying, meditating, reading, whatever it is. So why settle for a boring one?
You haven't really been to a college until you've experienced its library. College libraries are just different from anything else. They're a pure distillation of what college is about—the thrill of academic inquiry; the comfort of finding a place to curl up with a book and being, for one afternoon, anyone you like; and, yes, the panicked-staying-up-till-three-in-the-morning-and-studying feeling of the night before a big test. All of which is to say: the library's going to be an important place for anyone planning on college. Here are three institutions that do a great job with their most important building.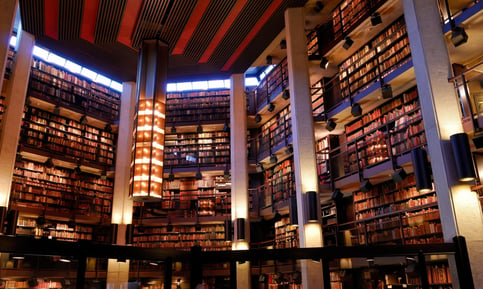 Toronto, Canada
44 libraries. 12 million books or publications. 341 languages. If you laid them out, 18 miles of books. Yeah, there's a lot here. If you need a book on maritime law in the 13th-century eastern Baltic, you can probably find it.
But there are a lot of huge libraries. What sets the University of Toronto's system apart is the huge range of special collections—everything from Canadiana to over 3,000 items from Leonard and Virginia Woolf. The Thomas Rare Book Library, though, is the crown jewel, with 700,000 historically and culturally significant volumes from across the world. This is the place to examine papyrus documents from Ptolemaic Egypt, review Shakespeare's first four folios, or absorb the traditions of medieval Jewish communities living in the Byzantine Empire. Beyond books and historical curiosities, there's also a constantly updated exhibition schedule. If you're reading this in the second half of 2022, for instance, you'll be able to see an extensive set of medieval documents celebrating the evolution of the written word. Basically: there's a lot here, whatever your interests.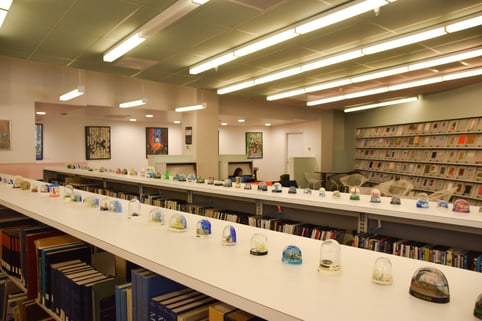 Cincinnati, Ohio
If the University of Cincinnati is famous for anything, it's an incredible cooperative education program that matches students with valuable professional development in their undergraduate field (UC literally invented co-op programs). But the university should be more famous for its world-renowned Classics department.
UC researchers led an early excavation of legendary Troy (and cleaned up after the vandal who originally dug up the city), discovered an ancient Cretan Bronze Age tomb, and continue to be recognized for their contributions to the Classics field. But UC undergraduates get to experience the other amazing resource on campus: the John Miller Burnam Classics Library. Unlike at many college libraries, all Classics resources at UC are housed in one building: treatises on everything from archaeology to literature to medicine of the Greek and Roman world can be accessed in one place. Recent and upcoming exhibitions include "Animals in Antiquity" and a focus on war and refugees in ancient Greece. For any student interested in history, culture, or just cool archaeological digs.
So, whether you're a student who loves reading the classics, wants a quiet place to study, or browse some cool libraries, try adding these three colleges to your list of schools to research. Because let's be real, students are going to be spending far too much time in their school library to not care about it.
---
---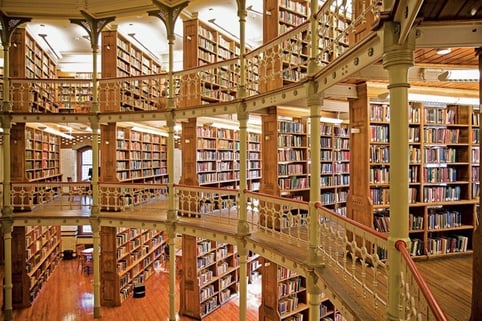 Bethlehem, Pennsylvania
Little college, big impact. Lehigh's the smallest college on this list at only about 5,000 undergraduates, but it punches way above its weight in the higher education world. Beyond its fantastic business and engineering programs, students also have the opportunity to attend UN conferences and briefings through Lehigh's partnership with the United Nations!
But in unremarkable Bethlehem, Pennsylvania, the quite remarkable Linderman Library stands out just as much as those world-class programs. Linderman Library (or "Lindy") is beautiful, of course, with a stained-glass dome and three levels of book stacks with cast-iron touches. But the real gem here is the book collection. Lehigh holds more than 40,000 historically significant items and over 20,000 rare books, with a special focus on English-language literature and natural history, science, and technology (including an original copy of Audubon's Birds of America!). The reading rooms are the most comfortable and elegant nooks on campus. Some of the most interesting recent exhibitions include a collection of historical and modern dictionaries and "Whitman @ 200," made possible by Lindy's rich collection of Whitman's writings. The beauty of the library doesn't hurt, either.
Check out our other 6 college recommendations as part of this month's 9 on 9 series:
Looking for additional support with the college application process?
Here at Collegewise, we understand how overwhelming the journey to college can be. We've helped more than 26,000 students get admitted to their best-fit college, and we'd love to help you too! Click the link below to schedule a complimentary call with one of our expert program advisors and receive advice tailored to your family's unique needs.
About Collegewise:
With more than twenty years of experience, Collegewise counselors and tutors are at the forefront of the ever-evolving admissions landscape. Our work has always centered on you: the student. And just like we've always done, we look for ways for you to be your best self - whether it's in the classroom, in your applications or in the right-fit college environment. Our range of tools include counseling, test prep, academic tutoring, and essay management, all with the support of our proprietary platform, lead to a 4x higher than average admissions rates.