Are you a student interested in skiing, snowboarding, or skating? Check out these small schools across the U.S., perfect for students looking to hit the slopes while studying in college.
Many students I work with are looking for specific academic offerings and programs in college. Some students have particular social groups or extracurriculars they want to take advantage of. Others want to be in cities with all the food, sports, and entertainment they can possibly find. And then there are those students who just want snowstorms, winter road trips, and powder days at the mountain. Each of the schools below has small campus communities with approximately 1500 undergraduate students. But what they lack in terms of massive student populations, they make up for in big mountain skiing and snowboarding. While I typically try to hide my California slang and chill vibes, it's going to be difficult to restrain myself in this post about small schools where you can shred (preferably the gnar).

Colchester, Vermont
St. Michael's, commonly known as St. Mike's, was founded in 1904 by Catholic priests and was originally an all-boys school. Then, in 1970, the administration passed a referendum to make the liberal arts campus coeducational, which it remains to this day. While the campus values "faith in action," the student population might also say it values "action in snow."
Vermont offers some of the best resorts you can ski or board in the Northeast, and it's common for those from New York, Connecticut, and Massachusetts to flock to the Green Mountain State on winter weekends. The mountain that students primarily venture to is Sugarbush Resort (about an hour away), which has two separate areas: Lincoln Peak and Mt. Ellen. Lincoln Peak is more family-friendly, so St. Mike's students (along with students from the University of Vermont and Champlain College) will often find themselves at Mt. Ellen for midweek riding. Even though Sugarbush peaks out at just over 4,000 feet, there are about 2,600 feet of vertical to take advantage of. The best part about Sugarbush for St. Mike's students? Your season pass can be as low as $115 to $250 FOR THE SEASON. That's called a steal, kids, and let me tell you, you aren't going to get those kinds of prices once you graduate from college.
Other sick mountains in the quaint state of Vermont include Stowe (the "bougiest"), Bolton Valley (the closest), and Jay Peak (the coldest). I'll note here that sometimes Vermont feels like it has more skiers than snowboarders, but with Jake Burton's legacy and Burton Snowboards founding in Burlington, there's still plenty of thought and care for my boarding community. Fair warning to my West Coasters: it will be chill in VT, and by that, I mean freezing frickin' cold. Expect single-digit days and most likely some ice patches after nights of below zero. However, I will say that powder days are a blast on Vermont mountains as the cold weather helps maintain great conditions for long stretches.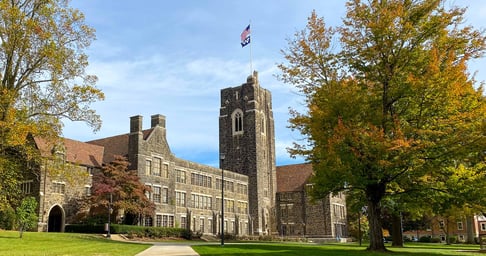 Salt Lake City, Utah
Moving west, we find our way to the great state of Utah, home of a quaint but steezy liberal arts college called Westminster. Founded in 1875, Westminster has a thriving student body, even with bigger schools like the University of Utah and BYU a stone's throw away.
While the secret seems to have gotten out in recent years, Salt Lake City (SLC) may offer the closest and most accessible riding to students who still want to live in a city. The closest resorts to Westminster include Solitude Mountain and Brighton Resort, but just a few extra minutes away are the larger resorts of Alta Ski Area and Snowbird. At the end of the day, all of these mountains offer something a little different than the other, but you can still get STOKED on any of them. Brighton is likely the student favorite due to its proximity as well as popular night skiing/boarding. Solitude has incredible features and steep terrain you have to seek out. Since Alta and Snowbird are much larger mountains, they can also be much busier (especially on the weekends). Access to each of the mountains is a breeze, with free shuttles for season pass holders from designated park-n-ride spots throughout SLC.
Beware to boarders: Alta is one of three resorts left in the country for skiers only (yeah, they still exist, apparently). Similarly, Deer Valley, which is a bit farther away, is also skier-only. Other awesome mountains outside of the SLC area include Park City, Sundance, and Snowbasin.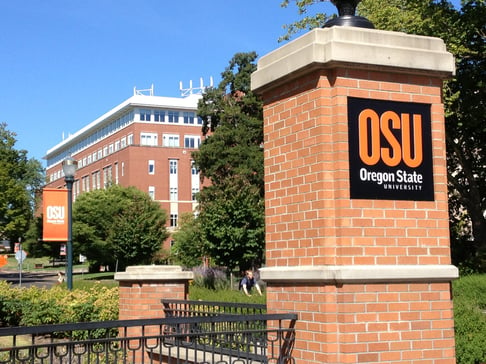 Cascades-Bend, Oregon
Cascades is a satellite campus that's part of the greater Oregon State University system (Go Beavers!). Founded in 2016, Cascades is less than 10 years old. Although total enrollment is just over 1200 students right now, the plan for this campus is to grow to nearly 3000-5000 students to meet state enrollment goals. Cascades enrolls roughly 50% of Oregonians, but with Bend, OR, becoming one of the great outdoor cities to live in on the West Coast, more people (and students!) are moving to this part of central Oregon.
Different from the previous two schools mentioned on this list, Cascades really only has one close mountain for shredding, but it's less than a 30-minute drive away. However, while this campus is last on the list, the community of Bend, and especially Mt. Bachelor, should certainly not be considered the least. Mt. Bachelor has a top elevation of 9,000 feet, with over 3,000 feet of vertical down to the base elevation of 5,700. There's no way to put this lightly, but Mt. Bachelor is a VOLCANO. On a non-windy day, you can take the Summit Express up to the peak, and LITERALLY ride into the caldera of the volcano! What the heck?! There's a reason Bend is home to numerous Olympians and X-Games competitors alike, and it's because the big mountain terrain of Bachelor is second to none. Powder days are insane, the terrain is endless, and with no hotels or lodging allowed at the base, it still feels like a mom-and-pop mountain experience.
If Bachelor can't feed your need for speed, Hoodoo Ski Resort is just an hour away, and Mt. Hood (another volcano!) is about 2.5 hours away. I think OSU-Cascades is currently one of the most underrated ski/snowboard schools in the nation, and I won't be surprised if my shredders start flocking to this little undergrad community in the coming years.
Final Thoughts
So, whether you're a student-athlete or beginner skier/snowboarder, St. Mike's, Westminster, and Oregon State are three of the many colleges you should consider if you're looking to hit the slopes on the weekend or in between studies. If you're interested in receiving expert advice on your college research or need support building an application for any of these colleges, speak to a program advisor today.

---
About Us: With more than twenty years of experience, Collegewise counselors and tutors are at the forefront of the ever-evolving admissions landscape. Our work has always centered on you: the student. And just like we've always done, we look for ways for you to be your best self - whether it's in the classroom, in your applications or in the right-fit college environment. Our range of tools include counseling, test prep, academic tutoring, and essay management, all with the support of our proprietary platform, leading to a 4x higher than average admissions rates.
---