Not every college needs to be the biggest in size to make an impact or offer memorable experiences to its students. Sometimes, it might just be the small ones that pack the biggest punch!
I found myself frustrated during my college search. I knew I wanted a school with a lot of spirit, but I also knew I would feel most comfortable in the small-to-medium-size range. I was having the hardest time finding a place that matched the size I wanted that didn't have a basketball gym that was a replica of the one that existed at my high school. I eventually discovered that you don't need to go to Clemson to have a tailgate or Wisconsin-Madison to be part of a student section where you can jump around. There are plenty of small-to-medium-sized schools with just as much school spirit as their state flagship peers—you just need to look a little deeper. The following three institutions all have an undergraduate population of under 6,000 students, have successful sports teams, and are the types of places where you'll notice most people walking around campus are wearing at least one article of clothing with the school's name on it.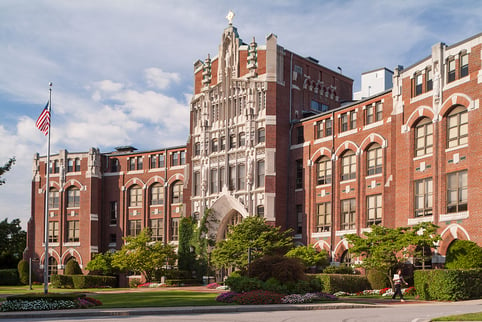 Providence, Rhode Island
There are quite a few Taylor Swift fans at Collegewise, so she frequently gets brought up in our meetings. If any of my colleagues were to go back to college, Providence College is one they might consider. Why? Because the Friar Fanatics, the club that runs the student section at athletic events, recently developed a tradition at the men's basketball games where Swift's "You Belong with Me" is played each game during a timeout. It has turned out to be a stadium anthem for the ages, at least in the downtown arena where the men's basketball team plays their games. The tradition was strong enough to gain recognition from Swift herself.
Now, one fun video and approval from Taylor Swift is not enough on its own to get added to this list. Providence has won two national championships in the last decade (men's ice hockey in 2015 and women's cross-country in 2013), and other sports have had recent success at the national level. With its proximity to downtown Providence and being an hour away from Boston, PC might just be your style, and a place where you can fulfill your wildest dreams.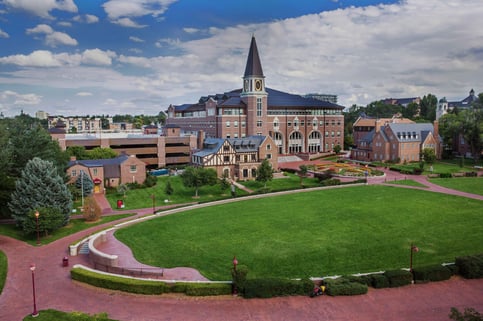 Denver, Colorado
The University of Denver holds 34 NCAA team national championships to its name. Of those national titles, 24 are in skiing, which makes sense, given the school's proximity to the Rocky Mountains. The men's ice hockey team won the national championship in 2022, their second in five years and the program's ninth championship, tied for the most of any school in the country. Fans don't just support the cold-weather sports (although they certainly do that)—they show up and sell out lacrosse games in the spring and soccer games in the fall as well. No matter the sport, DU is likely to be competitive at the conference and national levels.
With its unique combination of an urban setting with easy access to outdoor activities, medium size, and successful Division-1 athletics, the University of Denver is worth a look.
---

---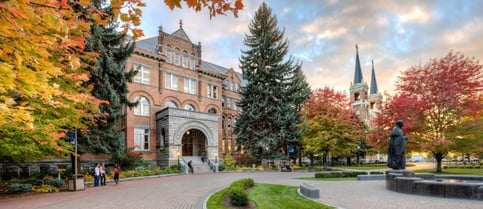 Spokane, Washington
Spokane is not warm in the winter. Yet each basketball season, hundreds of students race across campus to claim their spot in "Tent City" for the opportunity to camp out and get the best seats for the biggest basketball games. Once they thaw out from sleeping outside, the student section (aka the Kennel Club) helps make the on-campus McCarthy Athletic Center one of the toughest venues for opponents in all of college basketball. Side note: Can you imagine the stamina you need to have to jump around for five straight minutes? Sure, basketball is the most high-profile sport at Gonzaga, but it's not the only one the students support. With the soccer and baseball stadiums right on campus as well, there are plenty of opportunities for students to go and cheer on their fellow Zags.
Spokane's motto is "Near nature, near perfect," and a visit to Gonzaga's idyllic campus in the inland Northwest helps make it easy to understand why. Whether you are participating in the robust intramural sports program, skiing at one of the five resorts within 90 minutes of campus, or just walking from campus to downtown along the Spokane River, there is a lot to keep you occupied when you aren't in the Kennel.
And that's a wrap! Not every college requires the biggest student population to make an impact or offer memorable experiences to its students. Sometimes it may be the ones that are being overlooked that end up being the right fit. So, whether you're a true Swiftie or enjoy being part of sports (without actually playing), you may want to consider the three colleges we've listed.
Check out our other 6 college recommendations as part of this month's 9 on 9 series:
The Top Schools with a Big College Library
Looking for additional support with the college application process?
Here at Collegewise, we understand how overwhelming the journey to college can be. We've helped more than 26,000 students get admitted to their best-fit college, and we'd love to help you too! Click the link below to schedule a complimentary call with one of our expert program advisors and receive advice tailored to your family's unique needs.
About Collegewise:
With more than twenty years of experience, Collegewise counselors and tutors are at the forefront of the ever-evolving admissions landscape. Our work has always centered on you: the student. And just like we've always done, we look for ways for you to be your best self - whether it's in the classroom, in your applications or in the right-fit college environment. Our range of tools include counseling, test prep, academic tutoring, and essay management, all with the support of our proprietary platform, lead to a 4x higher than average admissions rates.