---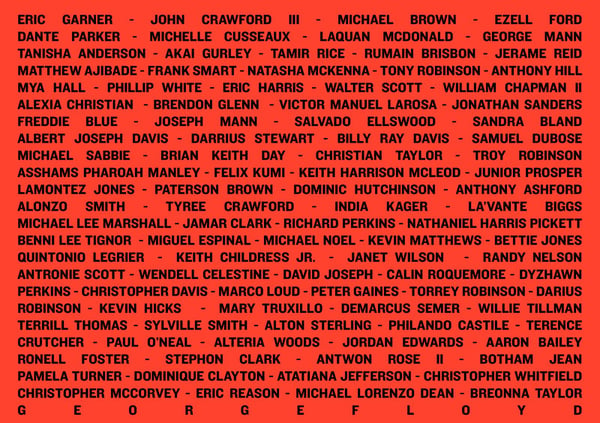 "Keep Collegewise Weird" is more than just a phrase we use here. It's long been a mantra and a way of life. It's how we encourage our colleagues to embrace their most authentic selves. It's at the core of our message to students: Be proud of who you are today and help colleges understand who you dream of becoming tomorrow. We celebrate individuals. But as we find our still burgeoning place within a complex and nuanced college admissions world, we've become part of a broader community, one in which we pride ourselves on being astute and recognizing pivotal moments for both the challenges and opportunities they present.
So, when George Floyd was murdered 24 days ago, we mourned with hundreds of millions around America and the world. We remembered Breonna Taylor, Ahmaud Arbery, and the many other Black lives cut short by violence and police brutality. And at Collegewise, we've always believed Black Lives Matter. That was not in question. What was in question was how we could—as both individuals and as a company—move beyond being allies of a movement we believed in and become real accomplices to see and effect the kind of change that goes beyond slogans and previously held values.
Since that fateful day in May, we've spent a lot of time listening to smart and trusted voices in both our profession and our country as they've pushed to create change in bold and courageous ways. But we are also recommitting with greater urgency to the work we are already doing in support of equity and justice.
Within Collegewise, we are continuing our engagement with the California Conference for Equality and Justice, a human relations organization "dedicated to confronting bias, bigotry, and racism through education, conflict resolution, and advocacy." Working with a small group of thoughtful Wisers who are engaging directly with our senior leadership team, CCEJ will provide us with additional training, tools, and best practices as we continue to build a more diverse and inclusive organization.
We are also actively engaging with the premier social justice organization in college admissions, Admissions Community Cultivating Equity & Peace Today. We've long been supporters of the work ACCEPT does. We've learned and drawn from their insight and resources regularly. And we're now working directly with their leadership to provide advice and back-end structure for a series of free ACCEPT webinars focusing on bringing Black high school students directly into communication with Black college students. We hope to do even more in the months ahead.
There is quieter but no less significant work being done at Collegewise, too. With greater purpose, colleagues are sharing and comparing new resources to educate and to engage in equity work. White colleagues are openly having conversations with each other about their roles in helping to dismantle systemic racism. The Collegewise Book Club, which has long wrestled with critical societal issues, is tackling Ibram X. Kendi's bestselling How to Be an Antiracist in their next meeting. Others are attending next month's Guiding the Way to Inclusion conference hosted by the National Association for College Admission Counseling. And in a sign of even more to come, our Inclusion, Equity, and Access Board is commanding the necessary autonomy to drive crucial conversations, learning, and real change within our company and the admissions community.
Our leadership shares a commitment to these antiracist efforts. We are reckoning with our own blind spots and doing our own reading and listening to address them. We are exploring more powerful means of standing up for Black Americans. We are creating opportunities to amplify the voices of Black educators. We are considering Black-owned businesses when making vendor decisions and encouraging all Wisers to use Election Day not to work, but to consider what their role in a just society is. For some, that might mean working as poll watchers, for others, spending time with their children explaining democracy.
So, here on the eve of perhaps the most significant commemoration of Juneteenth since the original in 1865, our work is nowhere close to done. To stand in support of antiracism means our work will never truly be done. But in a company filled with thinkers and dreamers and hard workers, this is work we are called to do, both as individuals and as a company. We refuse to let Black Lives Matter simply be a phrase here. Like "Keep Collegewise Weird," it will remain a mantra, a way of life, and a fundamental piece of our authentic self.