Interested in politics? Great! This list is for you because Washington, D.C. isn't the only place you should consider for college. Not interested in politics? This list is for you, too! At the heart of state and federal government is a wealth of opportunity across professional fields, from policymaking to civil service, data analytics to art curation, environmental research to entrepreneurship, and so much more. Here are a few schools that offer distinctive academic, professional, and social opportunities thanks to their location in a state capital.

Salem, Oregon
Willamette was founded in 1842, the first university in the western United States, before Oregon was officially recognized as a state. The state government was built around the university, quite literally. At exactly 76 feet, Willamette boasts the shortest distance between its campus and a capitol building of any college or university in the U.S. As easily as students can walk to the football stadium to cheer on the Bearcats (yes, that's the mascot!) or pop into the student-run cafe, The Bistro, for a $1 chocolate chip cookie the size of your face, they can stroll across the street for their clerkship with the Oregon Supreme Court or attend a committee hearing with their political class. In the spring, the cherry blossoms on the capitol grounds are seriously Insta-worthy!
The College of Arts & Sciences offers over 60 academic programs in a strong liberal arts foundation, including accelerated dual-degree programs in the College of Law and the Atkinson Graduate School of Management. Willamette reports that all undergraduate students complete an internship, research, or study abroad program before graduation, a notable statistic for students who are professionally focused and looking to be prepared for the best post-grad opportunities. But benefits don't stop in the academic realm. Willamette students can get free tickets to watch the Oregon Symphony perform in Rogers Music Hall or check out regional and national art exhibits at Hallie Ford Museum of Art. Weekends are spent picking up fresh Dough Hook donuts from the Salem Saturday Market, hiking through Minto-Brown Island Park, and listening to live music at the Riverfront amphitheater while the sun sets.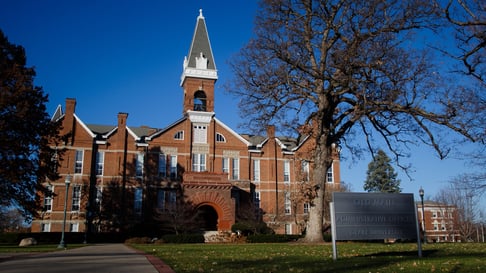 Des Moines, Iowa
As a student at Drake, you'll get used to national news crews descending on campus and the surrounding area.
The first reason? Drake has been known to host the decidedly valuable Iowa caucuses and candidate debates in Old Main, their oldest building on campus. Pretty exciting to think about brushing elbows with the next president of the United States, but you also have the opportunity to be part of the action. Students work on campaigns, canvas for voters' rights organizations, and intern for news outlets.
The second reason? The Drake Relays. For over 100 years, the university has hosted one of the largest and most renowned track, and field meets at the "Blue Oval," their campus track. It's the event of the year whether you're there to watch future Olympians compete, represent your student organization during Street Painting, or cheer on The Beautiful Bulldog contestants. It's no surprise that students aren't just observers of this spirited campus tradition; they're active participants. They compete as athletes, flex their event planning skills, and help produce the largest student-run television broadcast in the nation.
Behind the national-profile events, Drake students enjoy a student-centered and experiential education in over 100 different academic programs, with marketing, data analytics, legal systems, and psychology as some of the most popular. Supporting the undergraduate College of Arts and Sciences, there is also a College for Business and Public Administration, School of Education, School of Journalism and Mass Communication, a College of Pharmacy and Health Sciences (one of the best ranked in the country), and the only Law School in Des Moines.
Speaking of Des Moines, don't write it off as another Midwest town with cows and corn. The largest city in Iowa offers all sorts of entertainment to Drake students within walking and biking distance. Take a stroll through the sculpture park, get discounted student tickets to a touring Broadway show at the Des Moines Civic Center, catch an Iowa Cubs baseball game (that's where you'd catch this author!), or go ice-skating at Lauridsen Skatepark. Enjoy discounted bus, and bike rental passes with your student ID and explore the "Hartford of the West."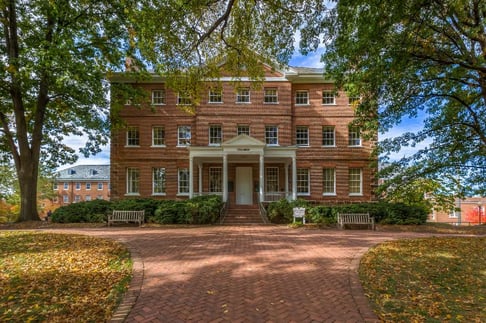 Annapolis, Maryland, and Santa Fe, New Mexico
What's better than one campus in a state capital? Two campuses in state capitals, obviously! St. John's College, the third oldest college in the United States, was founded as The King William's School in Annapolis, Maryland, and its deep-rooted history gets more impressive from there. In 1964, they opened a campus in Santa Fe, New Mexico, the country's oldest capital city. The unique Great Books curriculum is offered at both campuses, which allows "Johnnies," as students are called, an easy transfer process; about 10 percent take advantage and spend one or more years on the other campus.
On the Annapolis campus, you'll find all the New England charm you're looking for, with a picturesque waterfront and colonial architecture. There's rich campus tradition, including the Annapolis Cup, an annual croquet tournament played against the neighboring U.S. Naval Academy, and weekend waltz parties (yes, as in the dance). Johnnies are recognized participants in the Maryland Student Legislature, and many turn their Hodson Internships into careers in D.C., New York, and abroad in a wide range of professions, from NASA researchers to philosophy professors.
In Santa Fe, you'll be surrounded by adventure. The 250-acre campus is surrounded by hiking trails, six different ski basins, and water sports in the Rio Grande's canyons and lakes—all of which can be accessed through weekly Outdoor Program outings. You'll also be surrounded by art; Santa Fe has around 250 art galleries and a dozen theaters, and Johnnies contribute to their own student-run Peterson Art Gallery and Chrysostomos theater club. Pair all of your exploration with the TELOS Program, a series of workshops offered by the Office of Personal and Professional Development that guides Johnnies through the process of applying purpose to their passions and prepares them for life after graduation.
Final Thoughts
Researching colleges across the U.S. can feel like you've just gone down a never-ending rabbit hole, but once students determine what they want out (and don't want) of their college experience, it gets easier. Our 9x9 blog series shares insight into nine colleges every single month to help students broaden their college research and consider schools they may not be familiar with (yet).

---
About Us: With more than twenty years of experience, Collegewise counselors and tutors are at the forefront of the ever-evolving admissions landscape. Our work has always centered on you: the student. And just like we've always done, we look for ways for you to be your best self - whether it's in the classroom, in your applications or in the right-fit college environment. Our range of tools include counseling, test prep, academic tutoring, and essay management, all with the support of our proprietary platform, leading to a 4x higher than average admissions rates.
---