There are many colleges in the country that are part of consortiums (groupings of colleges that share resources) where students can utilize the library at a nearby campus, join other universities' sports teams and student clubs, and even cross-register for courses. Yes, you can even take classes (for credit!) at another school. But another consortium you may be less familiar with is the Work Colleges Consortium. The nine colleges in this collective are united by their intentional focus on service learning and work.
These small, non-traditional liberal arts colleges promote a very tight-knit community of students who want to live, learn, and serve their communities alongside one another. Students have access to everything from a part-time job in the university post office to blacksmithing and welding (you read that right!). We've highlighted three colleges that share this mission. If you're looking for a school that prioritizes hands-on work, read on!

Asheville, North Carolina
Tucked into the mountains of western North Carolina just outside of Asheville is Warren Wilson College. You'll find 25 majors in traditional areas, including biochemistry, psychology, art history, and more. When we say Warren Wilson is a work college, we mean it—every student works. It is a graduation requirement, and there are over 85 crews for the roughly 800 undergraduate students to join. You'll work with the Work Programs office to find the right fit, but some options include working in administrative offices on campus like admissions or financial aid, as part of a land management crew in forestry or landscaping, and even blacksmithing. There are so many places for students to jump in and work. The college farm has been run and farmed by students since 1894 (!).
Speaking of the farm, environmentalism and sustainability are huge focal areas at Warren Wilson, too; the school was even named "one of the most earth-friendly colleges on the planet" by Outside Magazine. We can chalk that up to the school's founding as the Asheville Farm School back in 1894. But since then, its commitment to sustainability has only grown. Myron Boon Hall, the center for social sciences, and the graduate writing program on campus is a LEED (Leadership in Energy and Environmental Design) Gold-certified building.
Students here are committed to not only leading a sustainable lifestyle for themselves but also furthering that mission on campus. For example, students can choose to live in the EcoDorm, which is constructed from as many recycled and upcycled materials as possible—from the roof to the concrete floors. It was even purposefully constructed so that its exact location and physical orientation maximize the collection of passive solar energy (yes, there are solar panels on the roofs).
Lest you think Warren Wilson is "all work and no play," there are many student clubs to join that span academics, identity, ideology, and more. Plus, the school takes advantage of its beautiful location to bring students into the natural world through activities like apple and pumpkin picking! As you can imagine, this is a school for people who skew outdoorsy; you can join club sports like paddling and become a member of the nationally-ranked cycling team. If you're looking for a college with a particular emphasis on how students can be drivers of change through work in sustainability, look no further than Warren Wilson.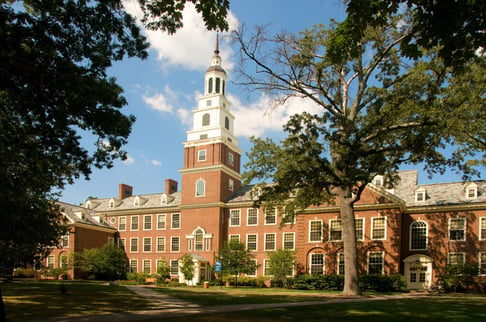 Berea, Kentucky
Across state lines and nestled in the heart of the Appalachian Mountains is Berea College. It is a school chartered with the distinct mission to serve students from limited economic backgrounds. (The average annual income of students' families is less than $30,000.) Today, Berea boasts an incredibly diverse student body where 98% of students are eligible for Pell Grants, 40% of students identify as students of color, and while 70%+ of students come from Appalachia, the undergraduate population represents 41 states and 76 countries. Students can choose from 30 majors or customize their own Independent Major. Some fun and unique majors include Health and Human Performance, Peace and Social Justice Studies, and Engineering Technologies and Applied Design.
Berea has actively worked to make sure that those with lesser economic means are not excluded from accessing higher education. A lot of schools profess to have this mission, but no other school commits to it in the way Berea does. And hold onto your hats for this fact: students at Berea pay no tuition. In fact, Berea has been tuition-free since 1892. All 1,600 undergraduate students receive a four-year Tuition Promise Scholarship.
With a tuition-free education, you might be wondering how this school is able to function. But that's where the Work Program comes into play. Since its inception, Berea has believed that students can (and should!) contribute to the cost of their education by working on campus. They serve their campus communities, which in turn fund the student experience; it is a symbiotic relationship. As part of the school's Labor Program, Berea students commit to working at least 10 hours a week in any of the 120+ available departments. Most work positions are co-supervised by a labor mentor for added student training and development. The school even hosts its own Labor Day event where students can explore and even interview with the various departments—kind of like a career fair!
Service learning has been a hallmark of the Berea experience since the formalized program was launched in 2000. These are co-curricular experiences that pair classroom learning with hands-on opportunities to address a number of community needs. Examples include a teen mentorship program, Habitat for Humanity, a Hispanic Outreach Program, and more. No matter the setting, the emphasis on service to the community is integral to the Berea experience, and in this tuition-free environment, students prove every day that they are worth the investment.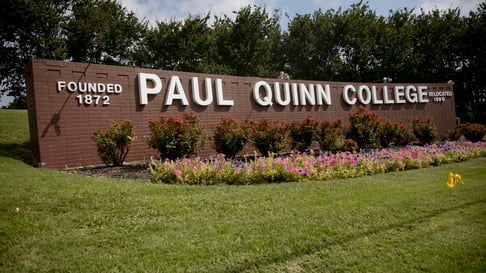 Dallas, Texas
Not all work colleges exist in the heart of the mountainside. Welcome to Dallas! And welcome to Paul Quinn College. Designated as an HBCU (Historically Black College or University), Paul Quinn is the county's first urban work college. The school's roots, dating back to 1872, encompass the mission to educate freed enslaved people. Today, the college serves about 500 students. And like at Warren Wilson, all Quinnites are required to participate in the Work Program, and typically clock 300-400 work hours per academic year. Students working in any of the 35 on-campus Work Program areas do so in partnership with a supervisor.
Let me take a step back for a moment and tell you a little about a man named Michael Sorrell. Michael Sorrell became Paul Quinn President in 2007. These blog posts don't normally focus on the college or university's president, but that goes to show you how impactful Sorrell has been. Sorrell, named to Fortune magazine's 2018 list of The World's 50 Greatest Leaders, has been lauded for his innovative spirit and contributions to the college. In fact, many of the school's most innovative initiatives have been launched under Sorrell's leadership.
In a striking move back in 2010, the college converted its football field to a 5-acre organic farm—the WE Over Me Farm. It is a fantastic work opportunity for students (needing no prior farming experience) to tend to the crops and greenhouse. Produce is shared among the local community, which is considered a food desert for its minimal access to grocery stores and fresh produce. Five years later, Paul Quinn revamped its financial aid commitment where students graduate with less than $10,000 in debt. One of the school's most unique features (and that says a lot since there are so many!) is the new admissions recruitment strategy where if a student is accepted to Paul Quinn with at least a 3.0 GPA and qualifies to receive federal financial aid, that student can select two family members or friends to enroll with them! It is an extraordinary effort to mitigate intergenerational poverty, especially for students who may be the first in their families to attend college. Paul Quinn believes that education is an engine of social and economic mobility and that it is a right any student should have—not only for personal betterment but for societal advancement as a whole.
Final Thoughts
As our society moves toward a more sustainable future, having skills in this area will go a long way, and finding a college that offers hands-on experience and extracurricular opportunities to students can give them the competitive edge they need after graduation! If you're interested in receiving expert advice on your college research or need support building an application for any of these colleges, speak to a program advisor today.

---
About Us: With more than twenty years of experience, Collegewise counselors and tutors are at the forefront of the ever-evolving admissions landscape. Our work has always centered on you: the student. And just like we've always done, we look for ways for you to be your best self - whether it's in the classroom, in your applications or in the right-fit college environment. Our range of tools include counseling, test prep, academic tutoring, and essay management, all with the support of our proprietary platform, leading to a 4x higher than average admissions rates.