Brainstorming the right colleges for you or your child? If you're interested in studying in Texas, consider these hidden gems when building a college list!
Texas is a legitimate land of plenty, and not just with reference to its many bar-b-que joints, high-flying football programs, and seemingly endless music festivals. Texas boasts a whopping 100 accredited four-year academic institutions (and a hundred more two-year junior, community, and technical colleges), making the Texas college scene more than just a matter of #hookem or #gigem.
If you are crashing through Texas on a college tour, make sure to check out these three hidden gems: they'll give you the best of everything the state has to offer with a combination of tightly knit communities, student engagement, huge scholarship opportunities (especially for out-of-staters), and access to nearby downtown areas.
Georgetown, Texas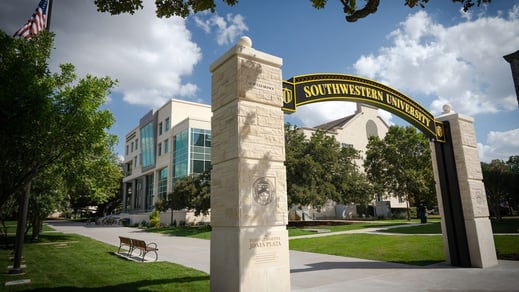 If you are looking for value in the liberal arts and want to ensure your career will take off after graduating, look no further than Southwestern University in Georgetown, Texas. Southwestern currently holds the #1 ranking for best career services in Texas and–get this–#3 best in the nation, according to The Princeton Review. Those are rankings that match its routine placement as one of the best value schools in the country, not just for your time on campus, but beyond.
Southwestern's history and development tracks that of Texas. Founded in 1840–a full five years before the state itself–Southwestern has adapted through its innovative focus on the liberal arts. Captured in its interdisciplinary academic approach–called paideia–Southwestern's educational philosophy helps students seek connections across disciplines from their first semester onward. Its unique intellectual atmosphere helps Southwestern maintain a great reputation as a launchpad for graduate school, especially.
But – and I'd be remiss if I didn't mention this – Southwestern is cool. Like, our-mascot-is-a-pirate cool. With 90 student-led organizations and 20 varsity sports teams that regularly dominate the Southern Collegiate Athletic Conference (SCAC), Southwestern features the perfect balance of an ideal college life.
Austin, Texas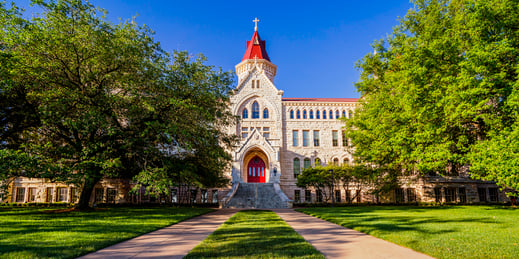 If you want to live in Austin, but the University of Texas isn't your jam, check out St. Edward's University (where, full disclosure, I've been a member of the faculty since 2009). Located on a hilltop overlooking the ever-changing city skyline, St. Ed's has a bustling academic and community culture that gives you access to everything Austin has to offer in the confines of a small, research-oriented university with strong roots in the liberal arts.
The St. Ed's vibe is one of community commitment, academic exploration, and relaxed fun: what other school can brag that its students regularly land Fulbright Scholarships and compete on club rugby teams that hold their own against the best in the region? Recent building campaigns have fully revitalized the campus center with new academic buildings, a redesigned science complex, and beautifully renovated main hall. If you visit in the winter, make sure to check out the century-old live oak trees at the center of the university grounds: they remain lit at night through the holidays and bring a sense of warmth and joy to the hilltop.
Though the school is an affiliated Holy Cross university, St. Edward's has a robust and inclusive student body, with Muslim, Jewish, and LGBTQ+ populations holding programs throughout the year. Given its size, location, and recent campus investments, this Home on the Hilltop offers an opportunity for everyone to be in a rapidly growing, fun city with the benefits of being in an enclosed, immaculately kept campus.
---

---
Dallas, Texas
Nestled in the northwest corner of its namesake city, The University of Dallas (UD) campus has the feel of a sanctuary, its tree-lined walks offering a break from the bustle of the huge, corporate centers closer to downtown. Founded in 1956, UD maintains a strong Catholic identity, with an academic focus on classical education in a liberal arts context. However, not to be outdone by the larger research institutions in and around Dallas, the school maintains partnerships with the University of Texas, Arlington, and Texas Women's University for programs in electrical engineering and nursing, giving students access to strong science, technology, engineering, and mathematics (STEM) programs without necessarily being on a large, public university campus.
At the center of its academic and cultural mission is a unique opportunity that almost all UD students embrace: to study abroad during sophomore year at the university's campus in Rome. The experience is often described as one that ties together the students' academic studies – with its focus on the roots of western civilization – at the undergraduate level and is unique among all schools in Texas.
The school is not necessarily for everyone, especially those looking for a relatively secular collegiate life, but if you are seeking out a religiously-oriented school that stands at the intersection of spiritual and modern academic life, UD may be the hidden gem you're looking for.
---
Looking for additional support with the college application process?
Here at Collegewise, we understand how overwhelming the journey to college can be. We've helped more than 26,000 students get admitted to their best-fit college, and we'd love to help you too! Click the link below to schedule a complimentary call with one of our expert program advisors and receive advice tailored to your family's unique needs.
About Collegewise:
With more than twenty years of experience, Collegewise counselors and tutors are at the forefront of the ever-evolving admissions landscape. Our work has always centered on you: the student. And just like we've always done, we look for ways for you to be your best self - whether it's in the classroom, in your applications, or in the right-fit college environment. Our range of tools includes counseling, test prep, academic tutoring, and essay management, all with the support of our proprietary platform, which lead to 4x higher than average admissions rates.