Nicki Minaj famously once said, "Let's go to the beach-each, let's go get a wave," and that's the energy we're channeling with this list of the best colleges with a coastal view!
Do you dream of going to the beach in between classes? Is there something about being along the coast that soothes your soul? Well, the good news is there are many colleges and universities that can offer you sun, fun, and sand. Whether you like the idea of surfing in Southern California, fishing along the warm waters of Florida, or enjoying sweet tea on the beach in the Carolinas, today I'm going to highlight three colleges that offer those picture-perfect coastal views.
Conway, South Carolina
Coastal Carolina University (CCU), or "Coastal" as it is affectionately called, sits on 630 beautiful acres of the South Carolina coast. Located in Conway, in the Myrtle Beach metro area, Coastal enrolls over 10,000 students and is a national sea-grant institution, so whether a student wants to study marine life or research coastal conservation, CCU offers the perfect setting for doing that year-round. With hot summers and mild winters, CCU offers any beach lover access to some of the most beautiful beaches in the state. While the school is known for its Marine Science programs, there are over 95 majors—from business and finance, to education and social sciences, to the arts and pre-med; it's got something for everyone!
Marine-life lovers will be happy to know that CCU is a national sea-grant institution, meaning there are plenty of opportunities to participate in research as an undergrad. The Marine Science program at CCU allows students to choose from marine biology, coastal geology, marine chemistry, atmosphere/ocean dynamics, or marine analytical technology. CCU also owns a small, undeveloped barrier island that the university uses as a natural laboratory, preserving South Carolina's native coastal wildlife and plants. CCU is also one of 12 organizations in the Carolinas working together to accelerate the development of offshore wind energy in the southeast.
Whether a student wants to study marine life or work on New York City's Wall Street, CCU offers many great opportunities to pursue their passions. The school prides itself on having professors who actively listen to and support each of its students. Professors at CCU are accessible, and class sizes are kept small, despite having over 10,000 students. So, if you're looking for a "beachy" atmosphere, this could be the school for you. CCU even incorporates the sand and water into its school colors—the turf on the football and baseball fields is teal blue, beckoning us to hit the beach.
Malibu, California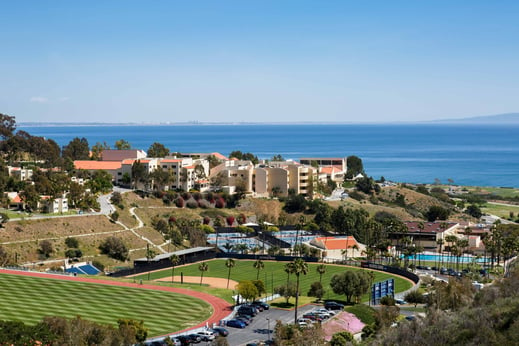 Taking us westward to the famed beaches of Southern California is Pepperdine University. Located in Malibu, or "the Bu" as the locals call it, Pepperdine is a mid-sized private research university sitting on the hills overlooking the Pacific Ocean. It is widely considered one of the most beautiful campuses in the world in terms of scenery and architecture. It's also been described as "a place that looks more like a beach resort than a private university."
Pepperdine has just under 8000 students, including both undergraduate and graduate students, and is affiliated with the Church of Christ. Choose from over 46 majors and 47 minors, with everything from liberal arts and business to fine arts and international languages. The university also promises small classes where everyone knows your name. Located in the Los Angeles metro area, there are many opportunities for internships, especially for those students studying business. Additionally, if you're looking to escape the beach lifestyle for a semester or two, Pepperdine has you covered! Students can take courses in Buenos Aires, Argentina, London, United Kingdom, Florence, Italy, Heidelberg, Germany, and even Washington, DC. The Institute of International Education ranked Pepperdine within the top five in the nation for the highest percentage of students studying abroad.
When you're not in class or walking around campus enjoying the beautiful California scenery, students take full advantage of their location. A 30-minute car drive will take you to the best of bougie in Santa Monica, tons of restaurants in LA, and plenty of shopping opportunities in Hollywood and Beverly Hills. Also, for nature lovers, there is access to all sorts of nearby rock climbing and hiking excursions.
---

---
St. Augustine, Florida
It isn't any surprise that when most people think of the sun and the sand, Florida often comes to mind, which is why Flagler College could be the perfect fit for any student looking for warm weather and a nearby beach. Unlike most of Florida, Flagler College is steeped in history and sits in the beautiful city of St. Augustine, which happens to be the oldest continuously inhabited European-established settlement in the United States.
Known for its "chill vibe," Flagler students can often be seen walking and riding their bikes while exploring downtown St. Augustine and other neighborhoods. Academically, Flagler offers 33 majors, and students can participate in undergraduate research opportunities, study abroad experiences, and internships. The most popular majors are out of their College of Business and School of Creative Arts and Letters, in addition to their Coastal Environmental Science program. There is also a dedicated "First Year Experience Program" that all new students must be a part of. The program integrates students into the intellectual, cultural, and social life of the college, ensuring that they have an educational experience that is enriched by the size of the college, the quality of the programs and services, and the commitment of the talented and dedicated faculty and staff.
But wait! Let's not forget that Flagler is only five minutes from the beach. Take your studying from the dorm to the sand; just be careful not to forget the sunblock. Flagler College students will often rent apartments after their first year on campus right on the Atlantic Ocean. What's not to love? Waking up to the sound of the ocean and seagulls as you sip your morning latte, then biking to one of the most beautiful campuses on the southeast coast—you'll be living the dream.
---
Looking for additional support with the college application process?
Here at Collegewise, we understand how overwhelming the journey to college can be. We've helped more than 26,000 students get admitted to their best-fit college, and we'd love to help you too! Click the link below to schedule a complimentary call with one of our expert program advisors and receive advice tailored to your family's unique needs.
About Collegewise:
With more than twenty years of experience, Collegewise counselors and tutors are at the forefront of the ever-evolving admissions landscape. Our work has always centered on you: the student. And just like we've always done, we look for ways for you to be your best self - whether it's in the classroom, in your applications, or in the right-fit college environment. Our range of tools includes counseling, test prep, academic tutoring, and essay management, all with the support of our proprietary platform, which lead to 4x higher than average admissions rates.