---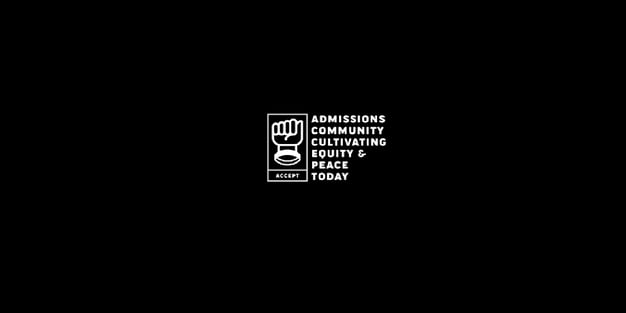 When I first started at Collegewise four years ago, one of the most notable experiences for me was hearing from leaders of ACCEPT (Admissions Community Cultivating Equity and Peace Today) and learning about the work they were doing. Since their founding, Collegewise counselors, myself included, have truly taken to heart (and to action) the work that needs to be done in admissions to make college accessible and equitable, from advocating for test-optional admissions to colleagues presenting on topics such as "Recognizing Inequity and Our Privilege; Strengthening Our Counseling" at professional conferences. I've taken so many of the lessons I've learned from the ACCEPT community and used them in my own counseling with students, challenging them to think about the world through a different lens, starting with college. Now, several years later, as an official non-profit, we're so proud of the work ACCEPT has done within the world of admissions.
About a month ago, we mentioned in a past blog post that we were working with our friends over at ACCEPT on supporting them with a webinar series for Black students and their families to shine a light on the Black student experience in college. We're happy to say that the series, "Being Black in College" is live and open for registration. All of these webinars are free for Black students and their families. You can check out the list of sessions here. Please share widely among your communities for students who may be interested in attending.
Topics include "A Look at Predominantly White Institutions" surrounding the history and student experience at PWI's and "Understanding Imposter Syndrome" specifically for students who experience self-doubt around a sense of belonging in college. We hope that students will join live, but if that's not possible, you'll receive the recordings of each session upon registration. We're really excited about these webinars, and we hope you are, too.
With more than twenty years of experience, Collegewise counselors and tutors are at the forefront of the ever-evolving admissions landscape. Our work has always centered on you: the student. And just like we've always done, we look for ways for you to be your best self – whether it's in the classroom, in your applications, or in the right-fit college environment. Our range of tools include counseling, test prep, academic tutoring, and essay management, leading to a 4x higher than average admissions rates.